Government of Japan held events on the abduction problem in the US.
To raise awareness on the abductions of Japanese citizens by North Korea among the international community, the Government of Japan held events in Washington D.C. and New York in May 2013. The events were attended by the Minister of State for the abduction issue, Keiji Furuya.
 Since the federal government of the US and UN Headquarters are located there, the events have helped officials, researchers, diplomats and citizens deeply understand the abduction problem, and have strengthened the international cooperation to resolve the problem.
 The events were also attended by Mr. Shu Watanabe, Member of Japanese Diet from the opposition party, DPJ, which symbolizes the bipartisan efforts in Japan to resolve the problem.

1. International Symposium (Washington D.C)
Time: May 2 (Thu) 15:00-17:00
Venue: Japan Information and Culture Center
Number of Participants: Approximately 130
Speakers
Kenichiro Sasae, Ambassador of Japan to the US
Keiji Furuya, Minister of State for the abduction issue(①)
Robert King, US Special Envoy on the North Korean Human Rights Issue
Tsutomu Nishioka, Chairman, National Association for the Rescue of Japanese Kidnapped by North Korea (NARKN)
Kazuhiro Araki, Representative, Investigation Commission on Missing Japanese Probably Related to North Korea (COMJAN)
Victor Cha, Senior Advisor, Center for Strategic and International Studies (CSIS)
Shigeo Iizuka, family member of an abduction victim(②)
Teruaki Masumoto, family member of an abduction victim
Shichiro Kobayashi, family member of a missing person
Key note Speech by Minister Furuya (English)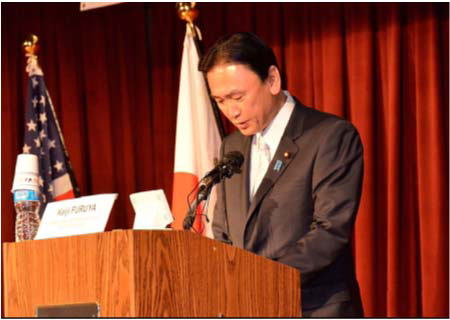 ①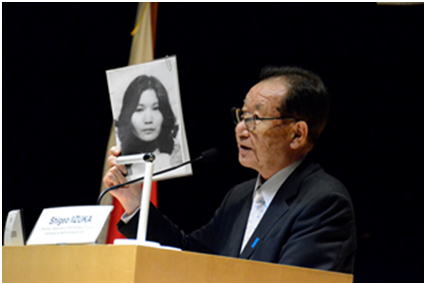 ②

2. International Symposium (New York)
Time: May 3 (Fri) 16:00-18:00
Venue: Japan Society Auditorium
Number of Participants: Approximately 250
(Including diplomats from at least 13 countries)
Speakers
Keiji Furuya, Minister of State for the abduction issue
Maarit Kohonen Sheriff, Deputy Head of the New York Office of the United Nations High Commissioner for Human Rights
Tsutomu Nishioka, Chairman, National Association for the Rescue of Japanese Kidnapped by North Korea (NARKN)
Kazuhiro Araki, Representative, Investigation Commission on Missing Japanese Probably Related to North Korea (COMJAN)
Melanie Kirkpatrick, Senior Fellow, Hudson Institute
Shigeo Iizuka, family member of an abduction victim
Teruaki Masumoto, family member of an abduction victim
Shichiro Kobayashi, family member of a missing person

3. Panel Display (New York)
Time: May 3 (Fri) 10:00-19:00
Venue: Japan Society Murase Room
Contents
Panel Display (Government of Japan, NARKN, COMJAN)(③)
Video Showing (Japanese animation "Megumi")(④)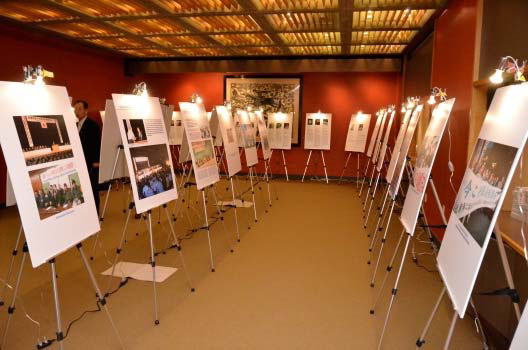 ③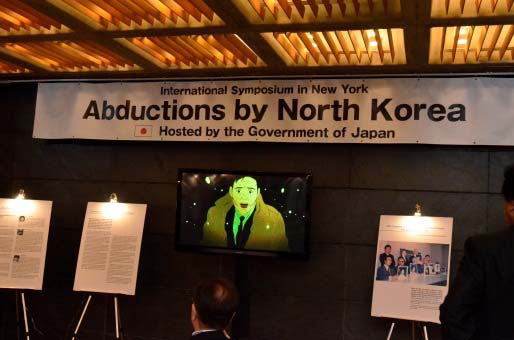 ④